Yep, folks, we made history last week.
Not such a bizarre claim when it comes down to it.
See this face?
That's Shimelis Abebe, a coffee farmer in Gololcha, Harar, cupping coffee for the first time. (That's his brother Tegeney next to him. Tegeney won a goat in a bet from Ytegessu: his coffee scored higher.)
This historic cupping, the first ever in the area, is just the beginning of the excitement from our 2017 Ethiopia Origin Trip. So buckle up and grab some coffee... here we go!
The Who
Sidama
For only 8 days on the ground, we crammed an enormous number of miles, smiles, and cupping vessels in. Our first leg of the trip focused on the Bensa region of Sidama, where we visited several wet mills and had the chance to introduce our American friends with the folks who've been caretaking and processing their coffees. For several folks in our crew, it was a first origin trip, which made everything extra-special and gave real weight to moments like this one, when the Upper Left crew met Samson, the manger of the mill that produced their Aleta Wondo coffee.
As a coffee person, I can make a safe bet you have either visited or seen photos from the Aregash Lodge near Yirgalem, Sidama. I just wrote a long and poetic essay about the place for Fresh Cup Mag so I won't lay the whole thing on you here, but suffice it to say that the Aregash is not just a place where you can count on the salads not destroying you (a big deal here!) but also a place full of love and welcome and careful attention to detail. We held a dance party and a cupping here.
Yirgacheffe / Kochere
If you follow Catalyst at all, you'll have heard us talk a lot about Reko Koba and Semalo Pride mills, two projects in which we are providing many services, including efficiency analysis, experimentation and process control, training, and photography/storytelling. We will be bringing these coffees to our customers this year, so sit tight.
The drive is long and wild—ill-made, unfinished asphalt roads give way to rough gravel... the body grows weary and the mind reels with culture shock and the constant high-pitched, "You you you!" from local urchins hoping for a handout. After the road winds deep into the country, we climbed past the symmetrical lines of trees in forest reserves and to the marvelous field—that's Field with a capitol 'F'!—that leads to Pride Mill. Check it out!
We visited Reko Koba and Semalo Pride mills in the same day; the management team from both mills met us in the city of Dilla, where we held a cupping; for each, it was their first. The coffees were MIND-BLOWING and the afternoon was incredibly special as American roasters and Ethiopian coffee workers got to share in a mutual appreciation and evaluation of their coffee.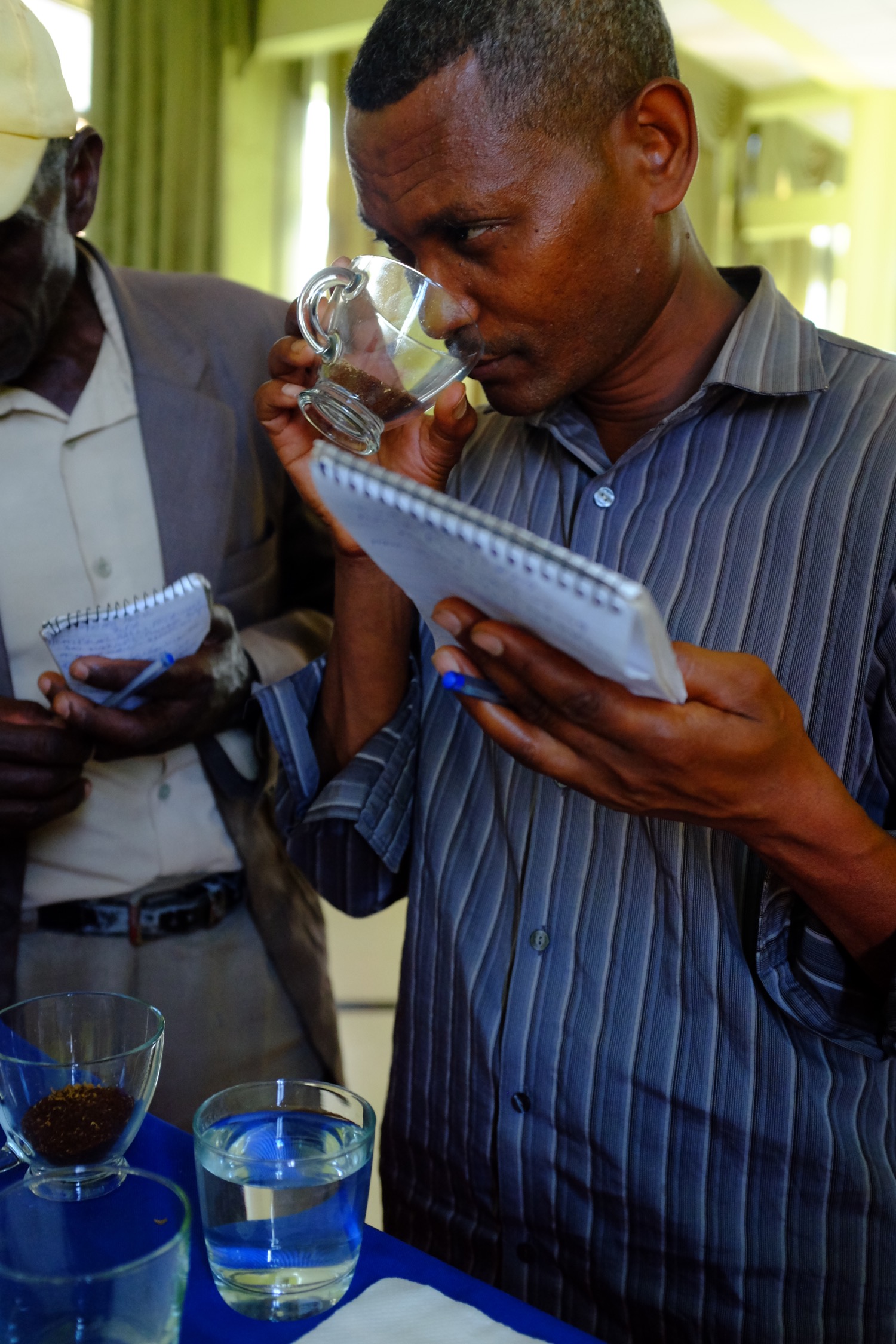 Gololcha, Harar (Tiret Cooperative)
And then it was time for us to drive (and drive, and drive) up over the beautiful skeleton of the earth to the remote community of Gololcha, Harar, where we held the cupping mentioned above. I could go into so much detail, and probably will in future writings. It was definitely one of the 'you had to be there' moments that will bear important fruit in the world.
75 farmers and government coffee workers gathered together with us in an overcrowded, hot hall and we cupped 19 TCPCA coffees together. We had brought all the cupping supplies with us, and Abebeyahu rented a generator to power the hot water tower we brought. (Chug, chug little engine... it took forever with the weak current to get to temp!)
As we cupped, we walked them through each part of the process, explaining what was happening and most importantly, WHY it mattered to them. And everybody who wanted to took a turn before we lifted the lids and learned the names on each lot. There were some surprises. A few farmers had lower scores than expected. A few, much higher. For each there was a reason which we discussed, calling out and recognizing each individual's hard work and tiret, or best effort.
Lots of other stuff happened on this trip. Eire made friends on the coffee farms. (This one is Ytigessu's)
We posed for cheesy coffee photos.
And we drank lots and lots of Habesha beer.
You should join us next time.